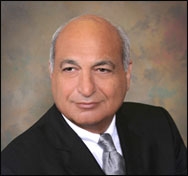 Frederick Erben
Shareholder/Partner
Areas of Practice

Criminal Law
Matrimonial matters including :
Domestic Relations
Divorce
Child Custody
Child Support
Modifications
Civil Litigation including :
Breach of Contract
Motor Vehicle Accidents
Personal Injury (Plaintiff)
Premises Liability (Plaintiff)
Dram Shop
Born and raised in Birmingham, Alabama, Frederick A. Erben graduated from the University of Alabama in 1963 a Bachelor of Science in Business. In 1966 he received his Doctorate from the Cumberland School of Law at Samford University in Birmingham.
Upon his admittance to the Alabama State Bar in 1966, Mr. Erben began his extensive legal career with Beddow & Beddow, which at that time included partners Roderick Beddow, the leading criminal defense lawyer in Alabama, and the eventual Alabama Supreme Court Justice T. Eric. The firm has produced multiple circuit judges as well as presidents of the Birmingham Bar Association and Trial Lawyers Association. Although originally focused on criminal defense, the practice area of the firm evolved to include divorce and family law matters as well as civil litigation. He has remained with this firm, through many changes of name and partners since 1966; he is currently the senior partner of Beddow, Erben, Bowen & Wales, PA.
Throughout his nearly 45 years of practice, Mr. Erben has been associated with groundbreaking cases which created new law and significantly impacted the practice of law in Alabama, including the decisions which set standards and guidelines in both criminal and domestic relations cases.
Mr. Erben has long been involved with the state and local Bar Associations. He has participated in various committees including the Grievance and Ethics Committee and the Alabama State Bar Fee Arbitration Committee, both of which concern the review of attorneys interactions with their clients.
Professional Affiliations:
Alabama Bar Association
Birmingham Bar Association
U.S. District Court Northern District of Alabama
U.S. District Court Southern District of Alabama